The "Semana Santa" in Alghero
The particular history of Alghero is connected to the Catalan culture, which go back to 1501, when a colony of aragoneses settled in the city, that reflects on the popular shows and the religious rituals. The whole city participates with great fervour at the strongly evocative Easter Celebration, which has Spanish origin.
A wooden statue of Christ is exhibited for the devoted faithfuls. Women,
dressed to mourning, crowd it with devotion, praying for grace, expressing vows.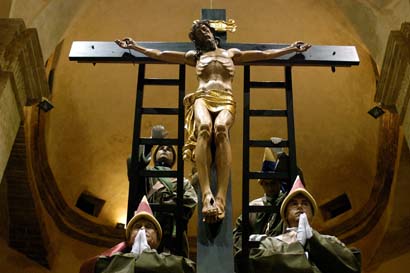 The "Semana Santa" starts on Tuesday "Dimarts Sant" with the Mysteries of Pain procession, it continues on Thursday "Dijous Sant" with the Via Crucis Celebration.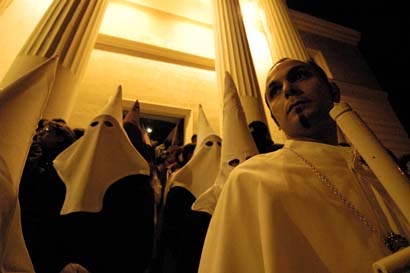 On Friday 29, "Divendres Sant", you can attend the ritual of the Christ 's unnailing from the cross, the "desclavamant" , and his deposition in the cradle.
The procession stars from the Misericordia church and accompanies Christ under the light of the "farols", small candles covered by red paper. Faithfuls walk with an ancient dancing step that seems the action of rocking Christ while confraternities parade wearing pointed cowls. Saturday, "Dissabte Sant" is the day of the waking and the wait of Easter Sunday, when the revived Christ will meet the Madonna between flights of doves and fireworks.