Shopping and curiosity through the historical centre
Going shopping in Alghero it is not only an undeniable, as obvious, consumer element but also an entertainment chance, the discovery of the city, its shops, the diversified offer of local production in several areas of handicrafts.. However, thanks to summer timetables of shops, shopping can be seen as an opportunity for the endless evenings in the open air, tasting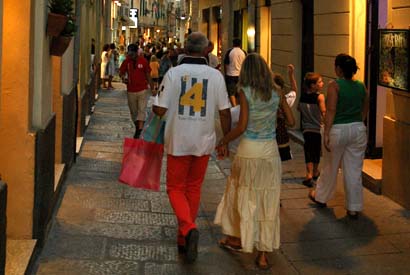 the fine suggestions in the homemade ice-cream parlours or the famous Sardinian torrone made with honey sold in the stalls in the open air, into the summer breeze on the promenade. During these thoughtless walks, you can discover by surprise important cultural events like paintings shows inside an old Spanish tower or a chamber music concert in the cloister of S. Francesco church with famous international musicians.
If you are not satisfied by looking at the windows shops in Corso or in via Carlo Alberto, there are other chances to spend and for the most particular requests doesn't miss the possibility of check your credit card capacity. You can find anything for every taste and every pocket.
From the research of a postcard to send to a friend with the picture of the cove that you discovered during a tour, almost like a hunting trophy; to the fine jewel with the red coral (corallium rubrum) taken from Alghero's depth, which is better in quality than the coral of the other seas of the world. Alghero's handicrafts come from the ancient history but it has developed inspiring by hints and cultural enriching also from the influence of its dominations.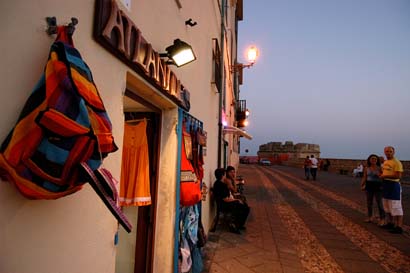 The most interesting works are the embroidery and the wickerwork, which sometimes uses the old wooden loom and produces pack-saddle, tapestry, carpets, traditional dresses; the intaglio of the wood that produces furniture and tools, the wattle of natural fibres which produces the typical baskets made of different colours barks; the ceramic that produces decorated and glazed terracotta, suitable for everyday use or just to decorate; the working of metals, from the poorer as copper to the more precious like gold and silver, in which the local artists' work expresses their originality with unique works like the filigree, in which the Sardinian wedding ring is probably the most famous and the most wanted object and the cornelia, a ring with the homonymous hard stone, red or green, with a warrior face sculpted.
Don't miss, as well, the production of wrought iron and the leather working, fine knives, old styled furniture, rocky sculptures, decorative baskets, furnishing and domestic objects, shawls and headgear and the weaving of the rough flax and of the wool, which comes directly from the flock of the Sardinian sheep.