Your holiday house near the Tourist Port and the most beautiful beaches of Alghero.
Carrer dels Horts offers comfortable apartments in the heart of Alghero near the Porto turistico and few minutes from the most beautiful beaches of the North Sardinia. The famous San Giovanni Lido with its fine white sand is reachable from your holiday house, through a short panoramic walk on the coast road towards Fertilia. Along all the coast road it is possible to approach the free beaches and through a wide pinewood, to dunes of Maria Pia beach. The beach takes its historical bars and service areas where it is possible to refresh yourselves with an ice-cream, have a drink, or rent a pedalo in order to swim further and for the more sports lovers, to catch up the Madarenetta island with its visible light from the beach.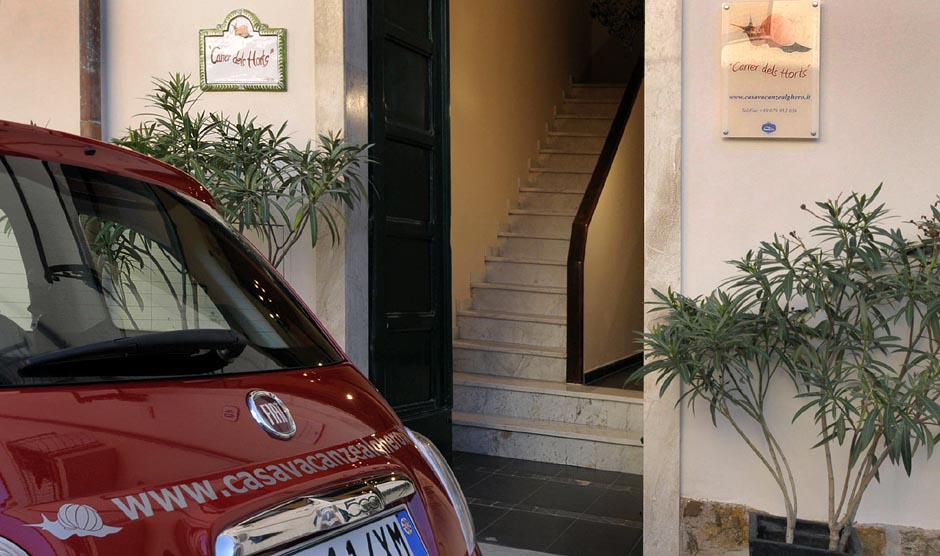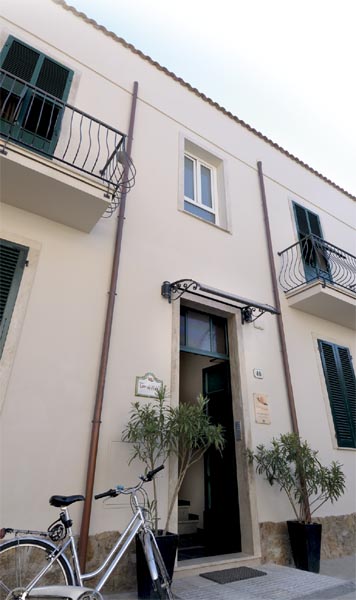 From the small town of Fertilia it is possible to reach the wonderful Bombarde beach by car or through a shady racetrack in the next pinewood. On the opposite direction, your holiday house is connected with the historical centre of Alghero through a comfortable pedestrian walk realized recently on a plan of the same architect who has realized the famous Ramblas of Barcelona. Following therefore the tourist port and the famous spots and restaurants with local cuisine you can comfortably arrive on foot to the heart of the fortified bastions on the sea with the inscriptions in double language, in Italian and Catalan that remember the period of the Spanish dominion on the city in 1500.
Here it is possible to admire the wonderful sunsets on the sea through the skyline of the port or Capocaccia promontory, walking between palettes of painters plein air, vendors of products of local handicrafts and souvenir or taste wines and the deliciousness of the Catalan cuisine in the open air restaurants along the fortified wall towards Spain.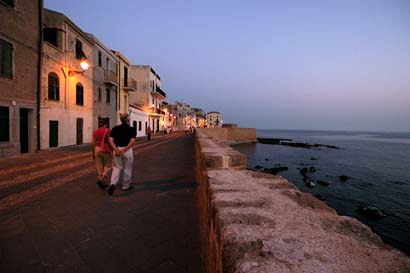 At the end of the Bastions marked from the towers S. Giacomo and Sulis, you can approach the panoramic promenade, coloured by breathtaking sunsets and favourite destination for the evenings, between ethnic stalls of the street vendors, homemade ice-cream parlours, pubs, on the cliff, pizzerie, restaurants and for the more demanding ones, art exhibitions or cultural thematic events inside of the ancient towers, along the distance of the old walls, staged by Town Council as permanent showrooms.
Beside Sulis tower, the homonymous square is a worldly crossroads of the Alghero's nights because of its spots and its central position. It is custom to date here in order to organize the evening at the restaurant or at the disco or simply in order to go shopping walking down inside the central and historical via Carlo Alberto with its shops opened until late at night, reaching the ancient Piazza Civica that is linked to the port through a picturesque vaulted passage. It is possible to buy or simply to admire many examples of local handicrafts that achieve valuable standards in the working of the famous coral of the Alghero Riviera, and in jeweller's art and the jewels with the typical working of the Sardinia